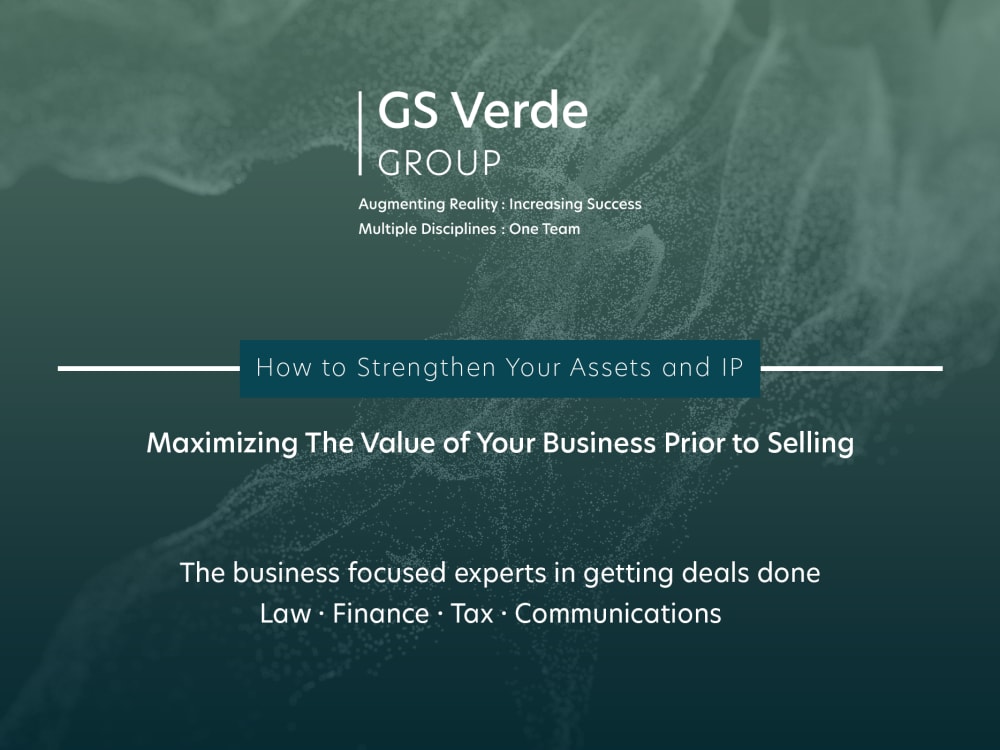 posted
19th
October
2023
Posted

1 month ago
By

GS Verde Group
While a potential buyer for your business will need to perform an overarching due diligence investigation, more specific due diligence investigations may also need to be carried out.

Many deals will be concerned with the innovative and highly valuable aspects of a company's IP, meaning that a review specifically centred on Intellectual Property will be performed. Similar attention will also be paid to other assets your business has, whether they be physical or digital. Therefore, it's important to ensure that they are strengthened and protected prior to acquisition.

Here are some key strategies for strengthening your assets and IP to retain and increase value when selling your business.
Utilise All Your Assets
Your business will be valued on a variety of earnings, but your physical assets such as buildings, inventory, office furniture, servers and vehicles may also be able to boost the purchase price.

You also shouldn't underestimate digital assets like bespoke software or your company website, or intellectual property such as patents and trademarks.

Differentiate Your Products or Services
Differentiating your products or service offerings can also increase the price of your business, but you must ensure that your business is in a unique position to dominate a slice of the market.

You can do this by developing and promoting IP, patents, or by promoting other features of your products or services that make you stand out and give you an edge over your competitors.

Don't Just Rely on Patents
While patents are a useful form of protection for your IP, some often become invalidated, and patents should not be the only method your business employs to protect its intellectual property.

It is crucial to take a multi-faceted approach to protecting IP, and to perform regular assessments to make sure your business is up to date with the most recent measures.

A legal team that specialises in commercial and IP law can advise you on the best way to protect your IP and optimise its strength when selling your business.

Turn to Experts
Ensuring your IP and other assets are protected - and that their value is maximised as much as possible - is a crucial part of getting your business ready for an acquisition or merger. Being proactively organized and taking all the precautions necessary to protect your assets and IP will ensure the value of your transaction is not compromised.

Being proactively organised also involves turning to experts who can support you in finding the right sale structure and identity potential risks to the sale in time to resolve them.

GS Verde's multidiscipline approach combines law, corporate finance, tax, and communications services for an end-to-end service that covers valuation, sale management, and legal transfer for a successful transaction. Our multi-discipline team can help boost your company profile, reduce any legal risks to your business, conduct reverse due diligence and help you find the right buyer.

To learn more about how GS Verde Group can support you in your business transaction, visit our 'Sell a Business' page. You can also explore other types of business sale by visiting our pages on Employee Ownership or Private Equity.

Contact GS Verde's multidiscipline team to learn more about what you need to achieve a successful business sale from end-to-end.